Nutella Monster Cookies
Monster Cookies.
If I could sum up this blog in 2012 with one dessert, it would be
Monster Cookies
.
I posted the recipe for the classic cookie in December last year– it's our family's favorite Christmas time cookie. It wasn't a big deal. Most people have the recipe. Mostly I just wanted it on my blog for easy personal access.
It was sort of an accident. I almost didn't post it (the pictures are hideous).
 And that's when the Monster Cookie thing got out of control.
People liked the dip. A lot.
And I was addicted to seeing people say they liked the dip.
Really addicted.
It's been quite the peanut butter and M&M sugar rush around here.
I've been dying to try Monster Cookies with Nutella, but I felt like the Crazy Monster Cookie Lady.
So I've been trying to take a break.
From the Monster Cookies.
Which was, clearly, some kind of a joke.
So I'm back with another Monster Cookie recipe :)
And, I must say, it's my favorite so far.
I'll be hard pressed to ever go back to peanut butter again!
Bold words, I know… but I tell no lies here.
Nutella Monster Cookies
Ingredients
3 eggs
1/2 c. shortening (not butter!)
1 tsp. vanilla
2 tsp. baking soda
4 1/2 c. oats
1/4 tsp. salt
1 c. brown sugar
1 c. sugar
1 tbsp. corn syrup
1 1/2 c. Nutella
1 package M&Ms
1 c. dark chocolate chips
Instructions
Using the paddle attachment in a stand mixer, combine all ingredients except for the M&Ms and the chocolate chips.
Add in the chocolate chips and M&Ms using the lowest speed on the mixer.
Scoop by tablespoons onto parchment lined baking sheets.
Bake at 350 for 7 minutes. Let set and cool on the baking sheet.
Tips:
Note the adjusted temperature and time from the classic monster cookie recipe. My first batch burned pretty easily– but after the adjustments, they were just fine.
I thought it helped to have the dough chilled a little bit.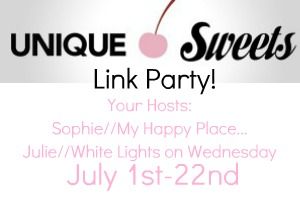 You can save this recipe to your own Recipe Box via ZipList. And they'll take the ingredients from the recipe and generate a shopping list just for you accessible on your computer or mobile device! I use mine all the time. If you aren't already using this really awesome recipe tool, take a minute to sign up at ZipList.com (it's free)!
Please visit my
Party Page
for a more complete index of Link Parties.